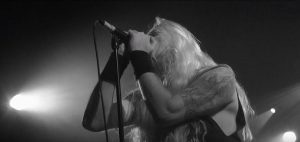 Britanski old school death metalci Memoriam so objavili videospot za skladbo Nothing Remains. Skladba bo del njihovega drugega studijskega albuma z naslovom The Silent Vigil, ki bo izšel 23. marca pri Nuclear Blast Records. Naslovnico je ponovno ustvaril mojster Dan Seagrave (Benediction, Dismember, Hypocrisy, Suffocation).
Album bo vseboval naslednje skladbe:
1. Soulless Parasite
2. Nothing Remains
3. From the Flames
4. The Silent Vigil
5. Bleed The Same
6. As Bridges Burn
7. The New Dark Ages
8. No Known Grave
9. Weaponised Fear
Skupino sestavljajo :  Karl Willetts na vokalih (na sliki), Frank Healy na basu, Andy Whale na bobnih in Scott Fairfax na kitari.