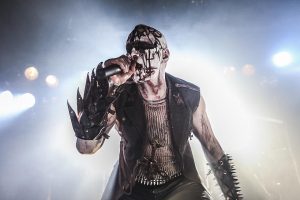 Norveški black metalci Mayhem bodo 25.oktobra objavili šesti album z naslovom Daemon.
Skupina je vokale in bobne posnela v studiu NBS Audio (studijo Necromorbus) v kraju Söderfors na švedskem skupaj z producentom Tore Stjerna. Ghul je kitare posnel na Nizozemskem, Teloch v studiu SleikBallaMi in bas kitaro so posneli v studiu Lupercal (oba v norveškem Oslu). Stjerna je tudi poskrbel za miks albuma, masterizacijo zvoka pa so zaupal Thomas Johanssonu v studiu The Panic Room.
Seznam skladb na albumu Daemon bo naslednji:
01. The Dying False King
02. Agenda Ignis
03. Bad Blood
04. Malum
05. Falsified And Hated
06. Aeon Daemonium
07. Worthless Abomination Destroyed
08. Daemon Spawn
09. Of Worms And Ruins
10. Invoke The Oath
Naslovnico je prispeval Daniele Valeriani. Mayhem se po izidu albuma odpravljajo na novo evropsko turnejo na kateri jih bodo spremljali Gaahls Wyrd.