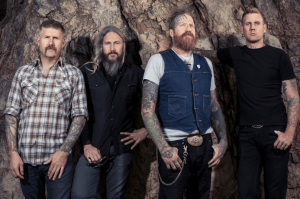 Mastodon so včeraj predstavili skladbo Andromeda, tretji single s prihajajočega  sedmega studijskega albuma Emperor Of Sand, ki izide 31. marca pri založbi Reprise Records.
Mastodon so  doslej objavili videospot za skladbo Show Yourself , na tej povezavi pa najdete singlco Sultan's Curse,  vse trailerje albuma pa na tej povezavi.
Album je bil posnet v studiu The Quarry Recording s producentom Brendanom O'Brienom (Aerosmith, Soundgarden, Pearl Jam, AC/DC, Rage Against the Machine), s katerim so sodelovali že na albumu Crack The Skye iz leta 2009. Naslovnico za album je ustvaril Alan Brown.
Tracklista albuma je naslednja: Sultan's Curse, Show Yourself, Precious Stones, Steambreather, Roots Remain, Word To The Wise, Ancient Kingdom, Clandestiny, Andromeda, Scorpion Breath in Jaguar God.