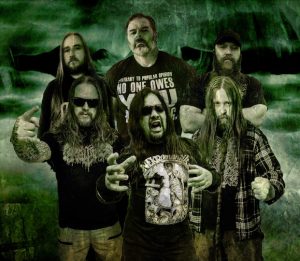 Death Metalci Massacre (Florida) so podpisali pogodbo z založbo Nuclear Blast, pri katerih nameravajo to jesen objaviti četrti album, ki bo obenem tudi prvi album skupine po sedmih letih.
Postava, ki snema album:
Poleg pevca Kama Leeja (Mantas, Bone Gnawer, The Grotesquery, ter basista  Mikea Bordersa so najeli kar tri nove kitariste in avtorje: Rogga Johanssona (Paganizer, Megascavenger, Riba Spreaderja, Johansson & Speckmann, Revolting), Jonnyja Petterssona (Gods Forsaken, Wombbath, Nattravnen, Henry Kane) in Scotta Fairfaxa (Memoriam, As The World Dies). Postavo zaključuje bobnar Brynjar Helgetun (Crypticus, The Grotesquery).