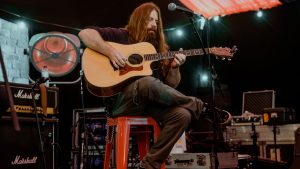 Mark Morton, kitarist zasedbe Lamb Of God,  razkriva podrobnosti prihajajočega EP-ja z naslovom Ether. Ta bo izšel januarja pri  založbi Rise Records . EP vsebuje tri nove skladbe in dve priredbi. Prvi single All I Had To Lose  je  izšel 10. januarja.
1. All I Had To Lose (featuring Mark Morales)
2. The Fight (featuring John Carbone)
3. She Talks To Angels (featuring Lzzy Hale)
4. Love My Enemy (featuring Howard Jones)
Pri snemanju so  sodelovala tudi vokalisti Howard Jones (Light Of The Torch), Lzzy Hale (Haklestorm), John Carbone (Moon Tooth) ter Mark Morales (Son Of Texas).