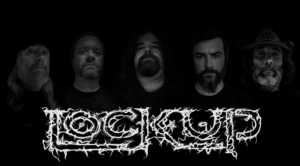 Lock Up so objavili videospot za skladbo Inside Cthulhu's Eye iz koncertnega albuma Play Fast Or Die – Live In Japan.
Lock Up so februarja predstavlili  "novega" frontmana in sicer Tomasa Lindberga (At The Gates). Ta je bil v skupini med letoma 2002 in 2014 in si bo sedaj delil mikrofon z pevcem Kevinom Sharpom.
Skupina trenutno dela na prihajajočem albumu The Dregs Of Hades, ki bo izšel  to jesen preko založbe Listenable Records.
To bo obenem tudi prvi album z novim bobnarjem Adam Jarvis (Misery Index, Pig Destroyer).
Nicholas Nick Barker je aprila lani  objavil, da zapušča mesto bobnarja pri zasedbi Lock Up. Zasedbo so leta 1998 ustanovili: Nick, Jesse Pintado (R.I.P.) in Shane Embury (Napalm Death).