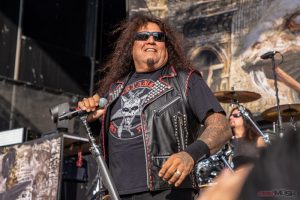 Lamb Of God so razkrili besedilni videospot za bonus skladbo Hyperthermic/Accelerate aktualne deluxe edicije.
Tukaj  so Lamb Of God so tudi objavili karantenski videospot za skladbo  Routes (ft. Chuck Billy-na sliki).
Lamb Of God – Deluxe-Edition
Lamb Of God so 26. marca pri Nuclear Blast objavili koncertni album/DVD z naslovom Live In Richmond, VA.
Memento Mori (Live)
Checkmate (Live)
Gears (Live)
Reality Bath (Live)
New Colossal Hate (Live)
Resurrection Man (Live)
Poison Dream (Live)
Routes (Live)
Bloodshot Eyes (Live)
On The Hook (Live)
Contractor (Live)
Ruin (Live)
The Death of Us (Live)
512 (Live)
Ghost Shaped People
Hyperthermic / Accelerate
Disc 1: Lamb Of God+ 2 Bonus Tracks
1. Memento Mori
2. Checkmate
3. Gears
4. Reality Bath
5. New Colossal Hate
6. Resurrection Man
7. Poison Dream (feat. Jamey Jasta)
8. Routes (feat. Chuck Billy)
9. Bloodshot Eyes
10. On The Hook
11. Ghost Shaped People
12. Hyperthermic/Accelerate