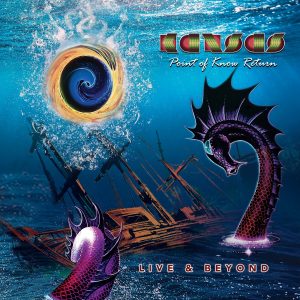 Kansas so objavili koncertni audio posnetek skladbe The Wall. Ta bo del prihajajočega koncertnega albuma z naslovom Point Of Know Return Live & Beyond, ki bo izšel 28. maja pri založbi InsideOut Music.
Plata bo vsebovala naslednjo setliso:
1. Cold Grey Morning
2. Two Cents Worth
3. The Wall
4. Song For America
5. Summer
6. Musicatto
7. Taking In The View
8. Miracles Out Of Nowhere
9. Point Of Know Return
10. Paradox
11. The Spider
12. Portrait (He Knew)
13. Closet Chronicles
14. Lightning's Hand
15. Dust In The Wind
16. Sparks Of The Tempest
17. Nobody's Home
18. Hopelessly Human
19. Carry On Wayward Son
20. People Of The South Wind
21. Refugee
22. Lonely Wind
Zasedbo Kansas  je nedavno zapustil kitarist Zak Rizvi (3. z leve), ki se je skupni priključil leta 2016.