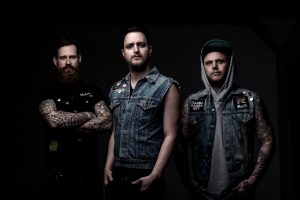 Švedski ( Stockholm) hipsterpunkrocktrio JUNKSTARS je nastal leta 2012 in ga sestavljajo; Max Malmquist- voklai in kitara,  Mathias Wanneberg na bobnih in Tobbe Ljungqvist na bobnih. Bend si je nabral zadosti kilometrine v zadnjih letih (skupaj z  Crucified Barbara,  Supercharger, Backyard Babies. in drugi)  in je sedaj dovolj samozavesten, da vam predstavijo svoj tretji album  (prvi album "With A Twist Of Lemon" – 2012 in drugi album "French Hot Dog" v letu 2013) – "This Means War" (zunaj od 6.11. via Despotz Records).
"We recorded the album live in 5 days with only vocals, one guitar, bass and drums. We wanted to write and make an album that we really liked our selves and we wanted to portray who we are, what we do and how we live.  So the whole album is just made on feeling; right here, right now. No polished shit. / Max, Matte & Bronxen
JUNKSTARS with Backyard Babies.
5 Nov – Markthalle – Hamburg, Germany
6 Nov – C-Club – Berlin, Germany
7 Nov – Hirsch – Nuremburg, Germany
8 Nov – Backstage Halle – Munich, Germany
9 Nov – Szene – Vienna, Austria
10 Nov – Gaswerk – Winterthur. Switzerland
11 Nov – L'usine – Geneva, Switzerland
12 Nov – Live Club – Milan, Italy
14 Nov – Bikini – Barcelona, Spain
15 Nov – Joy Eslava – Madrid, Spain
17 Nov – La Maroquinerie – Paris, France
18 Nov – Luxor – Cologne, Germany
22 Nov – Slade Rooms – Wolverhampton, UK
23 Nov – 02 ABC2 – Glasgow, UK
24 Nov – Academy 3 – Manchester, UK
25 Nov – Islington Academy – London, UK