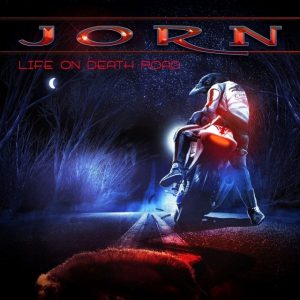 2. junija bo pri italijanski založbi Frontiers izšla nova plošča zasedbe Jorn z naslovom Life On Death Road.  Za imenom Jorn stoji norveški vokalist Jorn Lande, zraven njega pa se bo na novem albumu predstavila še povsem sveža spremljevalna zasedba, ki josestavljajo Mat Sinner – bas kitara, Alex Beyrodt – kitara, Alessandro Del Vecchio – klaviature in Francesco Jovino – bobni.
Kot je razvidno iz naštetih imen, so se k Jorn priključili kar trije člani nemških power metalcev Primal Fear, Beyrodt in Sinner pa sta stara znanca še iz časov zasedbe Sinner in po novem  sodelujeta tudi pri hardrockerjih Voodoo Circle. Alessandro Del Vecchio je član banda  Hardline, Francesco Jovino pa je pred priključitvi k Primal Fear igral pri U.D.O. in po  je prav tako kot Del Vecchio del postave prenovljenih Hardline.
Seznam skladb albuma Life on Death Road je naslednji:
1. Life On Death Road, 2. Hammered To The Cross (The Business), 3. Love Is The Remedy, 4. Dreamwalker, 5. Fire To The Sun, 6. Insoluble Maze (Dreams In The Blindness), 7. I Walked Away, 8. The Slippery Slope(Hangman's Rope), 9. Devil You Can Drive,  10. The Optimist, 11. Man Of The 80's in 12. Blackbirds.
Album sta producirala Alessandro Del Vecchio in Jorn Lande.