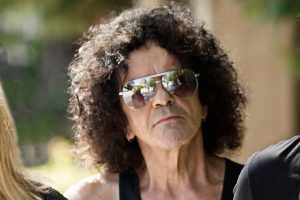 19 December 1947 – 24 January 2016
Grim reaper nadaljuje svoje delo med muskonterji . Včeraj  je v 68. letu umrl Jimmy Bain, bivši basist skupin Rainbow, Dio, Wild Horses · Hear 'n Aid · The Sledge/Leather Project in Last In Line in WWIII.
James Stewart Bain (19 December 1947 – 24 January 2016) bolj poznan kot Jimmy Bain je bil škotski kitarist, ki je najbolj znan ker je igral v  zasedbah Rainbow in  Dio , sodeloval je tudi z legendarnim (prav tako preminulim)  Thin Lizzy frontmenom –  Phil Lynottom kot so-avtor na njegovih solo platah. Bain se je zasedbi Harlot pridruzil leta  1974, potem ko je zavrnil zasedbo  The Babys. Ritchie Blackmore ga je videl nastopiti z Harlot   v The Marquee klubu v Londonu. Z Rainbow je posnel album " Rising in se nato odpravil tudi na tur z njimi, kjer je tudi zaigral na prvem live albumu zasedbe RAINBOW – On Stage. Januarja  1977 so  Baina vrgli iz zasedbe  od koder se je odpravil na turnejo z  John Cale in potem leta 1978 ustanovil svoj bend Wild Horses (prevzel je vokale, pisanje pesmi in seveda bas kitaro). Skupina je v line upu imela tudi ex kitarista zasedbe Thin Lizzy – Brian Robertson (kasneje Motörhead), bobnarja  Clive Edwards (Pat Travers, Uli Jon Roth's Electric Sun) in kitarista Neil Carter (UFO, Gary Moore). Wild Horses so preko  EMI izdali dva albuma v Evropi (Wild Horses (1980) in  Stand Your Ground (1981)). Leta 83 ga je poiskal star prijatelj  Ronnie James Dio ter ga najel za svoj solo bend – Dio, kjer je odigral poleg Ronnija centralno vlogo saj je bil so-Autor pri legendarnih skladbah kot so "Rainbow in the Dark" in "Holy Diver" (iz albuma Holy Diver 1983). Bain je bil tudi so-avtor skladb na albumih " The Last in Line" (1984), Sacred Heart (1985), Intermission (1986), Dream Evil (1987) in Killing the Dragon (2002). Bain je bil tudi na turu z Allstar zasedbo  Hollywood Allstarz, med drugim z  clani od skupin kot so; Giuffria, Quiet Riot, in  Lynch Mob. Zasedba  Last in Line je bil zadnji Bainov projekt o katerem smo porocali . Skupino so sestavljali  Viv Campbell, Vinny Appice, Claude Schnell in  Andrew Freeman. Baina je odnesel tudi rak,  ne ve se pa zagotovo ali je umrl na krizarjenju , ki ga je organizirala zasedba  Def Leppard "Hysteria On The High Seas", kjer bi moral Bain z svojim bendom nastopiti med 21. in 25. januarjem…James Stewart Bain  R.I.P. …we are all stars.