Brazilci BODE PRETO bodo dne 7.01.2016 preko Iron Tyrant  izdali album" Mystic Massacre"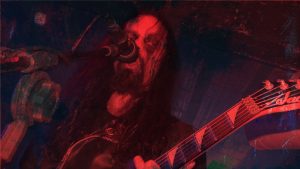 Founded in Brazil back in 2009, BODE PRETO (which translates as Black Goat in Portuguese) released the "Dark Night" EP the following year, and the classic "Inverted Blood" CD/LP in 2012.
The total strength of this band resides in their adherence to the standards that made Brazilian Death/Black Metal such a savage and uncontrollable entity in the '80ies, whereas many contemporary Brazilian black/death metal bands just cannot even manage to get near the greatness of the days of yore, when ungodly acts were shocking the planet with uncompromising Bestial Metal filled with despair and aggression. It is not by chance that members of Sarcófago, Holocausto and Impurity have joined the ranks of BODE PRETO at one time or another.
The full length is called "Mystic Massacre" and was completed between Brazil and Hellfire Studios in the UK, where the album has been mixed and mastered. This beast of an album will be released on CD and later on limited vinyl, as well as ultra-limited Picture Disc LP.
An EP will also be released featuring the vocal talents of Goat (ex-VON / SIXX / VON GOAT), such tracks being exclusive to this limited vinyl for the Moment.