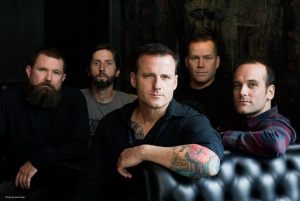 Kalifornijska  punkpop zasedba  IGNITE je objavilia ovitek in traklist za album  "A War Against You". Spodaj fan video naslovne skladbe.
"A War Against You" tracklist:
Begin Again
Nothing Can Stop Me
This Is A War
Oh No Not Again
Alive
You Saved Me
Rise Up
Where I'm From
The Suffering
How Is This Progress?
You Lie
Descend
Work
"A War Against You" izzide 8.januarja 2016 via Century Media !
A digital preorder of the album is scheduled to go online December 4th, 2015. If you preorder the album you will get an instant download of the first song, "Nothing Can Stop Me". At the same date a strictly limited 7" will be available for "Nothing Can Stop Me".
IGNITE just returned from a successful tour throughout South America and have the following shows already confirmed around the release of "A War Against You".
08.01.16 (USA) Los Angeles – The Roxy
09.01.16 (USA) San Diego – Brick By Brick
28.01.16 (H) Budapest – Barba Negra
29.01.16 (H) Budapest – Barba Negra
The album will be released shortly before IGNITE head out on the 2016 edition of the EMP Persistence Tour, in which IGNITE will be performing as headliner. This amazing package also features label mates TERROR, whom will be out supporting their own brand new album, "The 25th Hour," as well as NYHC legends H20 and special guests, Iron Reagan, Twitching Tongues, Wisdom In Chains and Risk It.
EMP Persistence Tour 2016
13.01.16 (PL) Warsaw – Progresja
14.01.16 (DE) Berlin – Astra  15.01.16 (DE) Hamburg – Grosse Freiheit 36 16.01.16 (DE) Oberhausen – Turbinenhalle 17.01.16 (B) Torhout – De Mast 18.01.16 (F) Paris – Gibus
19.01.16 (CH) Pratteln – Z7 20.01.16 (DE) Saarbrücken – Garage 21.01.16 (DE) München – Backstage 22.01.16 (DE) Wiesbaden – Schlachthof 23.01.16 (DE) Dresden – Alter Schlachthof 24.01.16 (NL) Utrecht – Tivoli
IGNITE 2015:
Zoli Teglas – Vocals Brett Rasmussen – Bass Brian Balchack – Guitar Kevin Kilkenny – Guitar
Craig Anderson – Drums