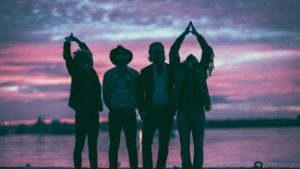 16tega tega meseca je finska zasedba  Death Hawks  objavila spot za komad  "Behind Thyme", ki se nahaja na aktualnem albumu skupine " Sun Future Moon". Album bo izšel 13tega novembra preko nternational  Svart Records. "Behind Thyme" skupina opisuje kot  sesalec, ki vas bo "suck you into the cosmos," njihov kozmos je soft, nič kaj maskulin, zelo odspejsan in morebiti  zna služiti kot ozadnje za kako  zadetniško žurko  – ampak ustvarite si svoje mnenje sami – spot je zgoraj- spodaj mnenje založbe.
"The new album's sound is even larger, more beautiful and diverse than before," says vocalist and guitarist Teemu Markkula. "As a band, we've strived for a much wider palette in every part of the process, from compositions to instrumentation and themes, and find the results satisfying. The songs deal with, for example, astrological myths of antiquity and the cosmos inside modern man. We consider the album both a logical continuation of the Death Hawks discography and also a step into a new age, in both meanings of the term. But, looking at the album from a simple point of view, we just tried to create a fascinating, melodic, and dignified Album.
Svart Records' Tomi Pulkki sees the band's evolution as positive: "Death Hawks are by definition one of the most creative and forward-thinking rock bands in the country right now, and their attitude is international in a very similar manner to our own thinking. It was a joy to find out the band wants to work with us, and I hope the new album will blow a lot of minds wherever it may spin." "We felt Svart could be a safe home for the band, and that they could help the band conquer the world," says band manager Esa Tontti.
A1. Hey Ya Sun Ra
A2. Ripe Fruits
A3. Dream Machine
A4. Behind Thyme
B1. Seaweed
B2. Dream Life, Waking Life
B3. Heed The Calling
B4. Wing Wah
B5. Future Moon
B6. Friend Of Joy