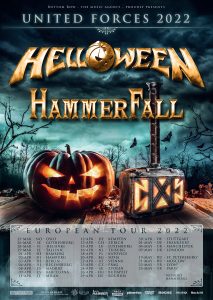 Power metalci Helloween bodo letos pri  NBR objavili istoimenski album. Skupina je objavila datume evropske turneje, imenovane United Forces.
HELLOWEEN & HAMMERFALL
UNITED FORCES TOUR 2022
25-Mar-2022  NOR  Oslo – Sentrum Scene
26-Mar-2022  SWE  Gothenburg – Partille Arena
28-Mar-2022  FIN  Helsinki – Black Box
29-Mar-2022  EST  Tallinn – Noblessneri Valukoda
01-Apr-2022  GER  Bamberg – Brose Arena
02-Apr-2022  GER  Hamburg – Sporthalle
03-Apr-2022  GER  Berlin – Verti Music Hall
04-Apr-2022  GER  Regensburg – Donau Arena                         
08-Apr-2022  ES  Madrid – Wizink Center
09-Apr-2022  ES  Barcelona – St. Jordi Club
11-Apr-2022  IT  Milan – Lorenzini District
12-Apr-2022  GER  Kempten – Black Box
13-Apr-2022  CH  Zürich – Samsung Hall
15-Apr-2022  LUX  Luxemburg – Rockhal
16-Apr-2022  NL  Tilbourg – 013
18-Apr-2022  PL  Katovice – MCK
20-Apr-2022  BG  Sofia – Arena Armeec
22-Apr-2022  AT  Vienna – Gasometer
23-Apr-2022  CZ  Prag -O2
24-Apr-2022  SK  Zvolen – Ice Stadium
26-Apr-2022  HU  Budapest – Papp Laszlo Sportarena
29-Apr-2022  GER  Bochum – Ruhrcongress
30-Apr-2022  GER  Stuttgart – Schleyerhalle
01-May-2022  GER  Frankfurt – Jahrhunderthalle
04-May-2022  UK  Manchester – Manchester Academy
05-May-2022  UK  London – Brixton Academy
19-May-2022  RU  St. Petersburg – A2*
21-May-2022  RU  Moscow – Adrenaline-Stadium*
23-May-2022  FR  Lyon – Transbordeur*
25-May-2022  FR  Paris – Olympia*
* without HAMMERFALL
Za prihajajoči, istoimenski albuma je ovitek izdelal v Berlinu živeči umetnik Eliran Kantor.
Prvi single Skyfall bo skupina v celoti predstavila 2.aprila. Helloween – Helloween bo izšel 18. junija z naslednjimi komadi:
01 – Out For The Glory
02 – Fear Of The Fallen
03 – Best Time
04 – Mass Pollution
05 – Angels
06 – Rise Without Chains
07 – Indestructible
08 – Robot King
09 – Cyanide
10 – Down In The Dumps
11 – Orbit
12 – Skyfall
Album so posneli v naslednji povezavi Andi Deris, Michael Kiske, Michael Weikath, Kai Hansen, Markus Grosskopf, Sascha Gerstner in Dani Löble.