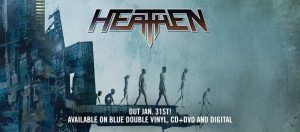 Thrasherji Heathen bodo ob 10. obletnici albuma The Evolution Of Chaos pri založbi Mascot objavili jubilejno (remasterizirano) verzijo le-tega. Poleg bonus skladbe  Seasons Of  Purgatory bo album vseboval tudi  DVD z Making of dokumentacijo ter njihov celotni nastop na Thrash-Domination festivalu. Skupino si lahko letos ogledate na našem Rock Hard Festivalu.  Heathen pripravljajo tudi nov album.
Skladbe na albumu, ki bo izšel  31. januarja  bodo naslednje :
01. Intro
02. Dying Season
03. Control By Chaos
04. No Stone Unturned
05. Arrows Of Agony
06. Fade Away
07. A Hero's Welcome
08. Undone
09. Bloodkult
10. Red Tears Of Disgrace
11. Seasons In Purgatory (Bonustrack)
12. Silent Nothingness
Ko je album The Evolution Of Chaos izšel prvič je to pomenilo, da so Heathen izdali prvi uradni novi avtorski dokument po dolgih 18. letih. Postavo Heathen, ki je posnela ta album so sestavljali Lee Altus (kitara), David White (vokal), Jon Torres (bas kitara), Darren Minter (bobni) in Kragen Lum (kitara).
V maju 2013 je Darren Minter po 25. letih zapustil skupino zavoljo nepremostlivih  okoliščin, v septembru istega leta pa je preminil basist Jon Torres.