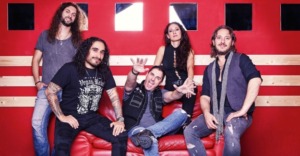 Hardline predstavljajo videospot za prvi single, otvoritveno skladbo Fuel To The Fire. Skladba  bo del prihajajočega sedmega albuma z naslovom Heart, Mind And Soul, ki bo izšel 9. julija preko založbe  Frontiers Music Srl z naslednjimi skladbami:
1.  Fuel To The Fire 2.  Surrender 3.  If I Could I Would 4.  Like That 5.  Heavenly 6.  Waiting For Your Fall 7.  The Curse 8.  Heartless 9.  Searching For Grace 10. '80s Moment 11. We Belong
Postava: Johnny Gioeli – vokal,  Alessandro Del Vecchio – klavijature, spremljevalni vokal, Mario Percudani – kitara,  Anna Portalupi – bas in Marco Di Salvia –bobni.