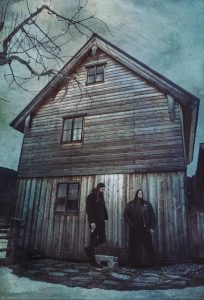 Avstrijski dvojec Harakiri For The Sky je tokrat objavil  komad And Oceans Between Us.
Prihajajoči album Mære bo izšel 29. januarja pri založbi Art of Propaganda (AOP) z naslednjimi komadi:
1. I, Pallbearer
2. Sing For The Damage We've Done (feat. Neige)
3. Us Against December Skies
4. I'm All About The Dusk
5. Three Empty Words
6. Once Upon A Winter (feat. Audrey Sylvain)
7. And Oceans Between Us
8. Silver Needle // Golden Dawn (feat. Voice of Gaerea)
9. Time Is A Ghost
10. Song To Say Goodbye (Placebo Cover)
Ovitek je izdelalo podjetje Art of Maquenda.
Kot gost je ponovno sodeloval Neige iz zasedbe Alcest.