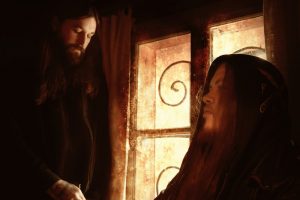 Avstrijski dvojec Harakiri For The Sky je tokrat objavil videospot za komad Sing For The Damage We've Done. Skladba je drugi single s prihajajočega albuma Mære, ki bo  izšel 29. januarja pri založbi Art of Propaganda (AOP). Kot gost je ponovno sodeloval Neige iz zasedbe Alcest.
Mære bo vseboval naslednje skladbe:
1. I, Pallbearer
2. Sing For The Damage We've Done (feat. Neige)
3. Us Against December Skies
4. I'm All About The Dusk
5. Three Empty Words
6. Once Upon A Winter (feat. Audrey Sylvain)
7. And Oceans Between Us
8. Silver Needle // Golden Dawn (feat. Voice of Gaerea)
9. Time Is A Ghost
10. Song To Say Goodbye (Placebo Cover)
Ovitek je izdelalo podjetje Art of Maquenda.
Album bodo mogoče promovirali na koncertni turneji skupaj z zasedbama Gaerea in Schammasch
28.01.2021 PL Warsaw – Hydrozagadka
29.01.2021 CZ Prague – Nova Chmelnice
30.01.2021 DE Erfurt – From Hell
31.01.2021 DE Dresden – Chemiefabrik
01.02.2021 DE Kassel – Goldgrube
02.02.2021 DE Mörlenbach – Live Music Hall
03.02.2021 DE Dortmund – Junkyard
04.02.2021 BE Kortrijk – De Kreun
05.02.2021 NL Arnhem – Willemeen
06.02.2021 NL Leiden – Gebr de Nobel
07.02.2021 DE Trier – Mergener Hof
08.02.2021 FR Paris – Backstage
09.02.2021 FR Toulouse – Le Rex
10.02.2021 ES Barcelona – Sala Boveda
11.02.2021 CH Martigny – Les Caves Du Manoir
12.02.2021 CH Wetzikon – Hall of Fame
13.02.2021 DE Regensburg – Airport Eventhalle
14.02.2021 AT Salzburg – Rockhouse
03.04.2021 DE Münster – Culthe Fest
17.04.2021 TK Istanbul – KadiköySahne
07.05.2021 NO Karmoy – Karmoygeddon Festival
30.07.2021 PT Vagos – Vagos Metal Fest
28.08.2021 DE Neuborn – Neuborn Open Air