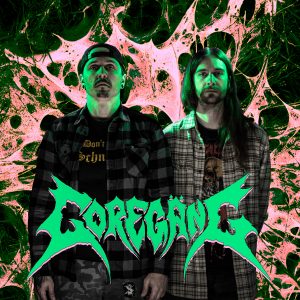 Floridski death metal dvojec Goregäng je nedavno podpisal pogodbo z Blood Blast Distribution za digitalno distribucijo.
Jeramie Kling (Inhuman Condition, Venom Inc., The Absence) na vokalu in kitari ter Taylor Nordberg (Inhuman Condition, The Absence) na bobnih, kitari in basu oživljata vajb švedskega death metala iz poznih 80-ih, ter zgodnjih 90-ih z lokalnim protagonisti floridske death metal scene.
Album Long Live The Grime bo izšel 30. aprila preko Blood Blast Distribution oziroma fizično pri njuni lastni založbi Listenable Insanity Records.
Spisek skladb bo naslednji:
Born. Slave. Death.
Pernicious Thief
Long Live The Grime
Farm The Mother
Electric Head Part 1 (The Agony) (priredba White Zombie)
A Cavity In Reality – Intro (Live)
False Flags (Live)
Plague Of Hammers (Live)
Cathedral Of Chemicals (Live)