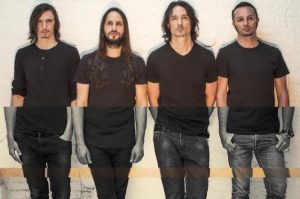 Francoska zasedba Gojira je posnela videospot za skladbo The Cell, ki se nahaja na  aktualnem albumu Magma (Roadrunner). Video je režiral in animiral Markus Hofko  (www.bowbowbow.co).
Gojira so letošnjio dvakratni nagrajenci za nagrado grammy.
Album Magma  je bil posnet v studiu vokalista zasedbe Gojira Josepha Duplantierja v New Yorku.
Na izdelku pa so naslednje skladbe:01. The Shooting Star (tukaj),02. Silvera (tukaj),03. The Cell,04. Stranded (tukaj),05. Yellow Stone,06. Magma,07. Pray,08. Only Pain,09. Low Lands in 10. Liberation.
Gojira jutri pričnejo s kratko turnejo po ZDA, za tem pa se vračajo v Evropo, kjer bodo nastopali kot predskupina Alter Bridge.
Datumi TUKAJ.