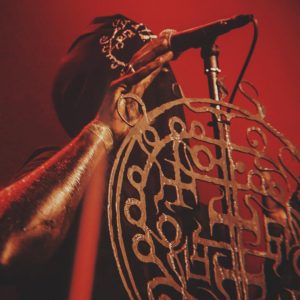 Portugalska black metal zasedba Gaerea je podpisala pogodbo z založbo Season Of Mist, pri kateri bo prihodnje leto izdala nov studijski album.
GAEREA 2019
12/10/19 Amplifest 2019, Porto (PT)
16/11/19 Sala Hollander, Sevilla (ES)
17/11/19 Sala Copérnico, Madrid (ES)
22/11/19 Oath Circle Meeting II, Madeira (PT)
30/11/19 Festival Warfest 2019, Figueira da Foz (PT)
01/12/19 La Cave à Rock, Toulouse (FR)
02/12/19 Le Molotov, Marseille (FR)GAEREA
+ Numenorean EU tour
05/12/19 Spillestedet Stengade, Copenhagen (DK)
06/12/19 1000Fryd, Aarlborg (DK)
07/12/19 Wintermelodei 2019, Munster (DE)
08/12/19 Hafenklang, Hamburg (DE)
09/12/19 Badehaus, Berlin (DE)
10/12/19 Helios37, Cologne (DE)
11/12/19 Kulturclub Schon Schön, Mainz (DE)
12/12/19 Backstage, Munich (DE)
14/12/19 Club Q, Graz (AT)
15/12/19 Viper Room Vienna, Vienna (AT)
16/12/19 Center mladih Koper, Koper (SI)
18/12/19 Le Grillen, Colmar (FR)
19/12/19 Patronaat Haarlem, Haarlem (NL)
20/12/19 De Pit / Podium in Terneuzen, Terneuzen (NL)
21/12/19 The Underworld, London (UK)
GAEREA 2020
08/02/20 II Doomed FEST, Viseu (PT)
24/07/20 Laurus Nobilis, Famalicão (PT)
Gaerea bodo decembra skupaj s kanadskimi post-black metalci Numenorean na evropski turneji z imenom Adore European Winter Tour 2019, 16. 12. pa se bosta skupini ustavili tudi v Centru mladih Koper.