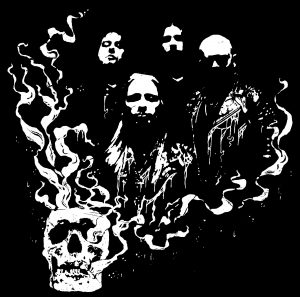 UK blekmetalci Funeral Throne so v medmrezje postavili celoten drugi album "Threshold " (via Blut & Eisen Productions).
Originally released last year on a very limited cassette edition, Threshold is now being unleashed upon a wider audience to weave its spell. And what a spell Funeral Throne harness here, a heaving mass of palpably physical energy yet one brimming with harrowing, hypnotic intent. Many of the song titles across Threshold – "Resurrection," "Through Transforming Fire," "Hypnotic Coils," and "Vessel" among them – paint a vivid picture of its contents; in fact, even the title of Threshold itself speaks volumes about the simultaneous ascent/descent the band undertake. Wrapped in a living/breathing style of production often missing from modern black metal – or even modern metal, in general – Threshold surges and pulses with a potency that's true heavy metal at its heart, stripped of degenerate Everyman cliche and shot through with the devilishness 'n' diabolism of idiomatic spiritual black metal. The Threshold presents itself – will you step beyond with Funeral Throne?
Tracklisting for Funeral Throne's Threshold
1. Resurrection
2. Through Transforming Fire
3. Victory
4. Hypnotic Coils
5. Vessel
6. Novus Ortus
7. I) Gateway To Lucifer; II) Gateway To The Eye
Funeral Throne
formed in 2005 when three youths from the West Midlands, England were drawn together, possessed by a love of spiritual black metal and a mutual hatred of their worlds. From the beginning, the band wanted to focus on the 'metal' in black metal, working on atmosphere but also dynamism and memorable riffing. Once the cradle of metal, forging genre-defining acts like Black Sabbath, Judas Priest, Witchfinder General et al, all that now remains in the Midlands are traces of that once-dangerous spirit. The spectre of industrial heritage and the ravaging scythe of global economic collapse have left the Midlands ruined. Thus,
Funeral Throne
 was founded in a land of death, and this is where the Devil found them.
Threshold illustrates a marked shift in terms of musicianship and conviction from 2008's Nihil Sine Diabolvs. This album has come to represent Funeral Throne really allowing the forces at work in their lives to take hold. It is a document of a five-year journey on the path of Black Holy Faith, and each track records a specific time/experience. The band has dedicated itself to crafting heartfelt and dynamic metal as a monument to profane spirituality and the bountiful darkness. The band know that a storm is coming and feel proud to work towards making the hole in the sky that much bigger.
When writing began on Threshold, Funeral Throne knew it had to be a different beast to its predecessor. Determined to control the whole artistic process, the band handled much of the recording and all of the artwork associated with the album. A conscious decision was made to avoid drum triggering and re-amping of the guitars, and by shunning the tricks of the modern black metal age, they hoped to create a dynamic sound all their own. Threshold fuses the dangerous spark of heavy metal mania, the sweeping fury of black metal, and the murky depths of death metal. Everything from Rainbow to Iron Maiden and Dissection to Arkhon Infaustus has been channelled and allowed to weave its spell.
Bassist/lyricist J. Welch states: "Threshold is a document, a fixing of the trials, tribulations, and ecstasies that made up the five years of the album's crafting. The title is simple and strikes for the heart – its song is clear yet scrambled. All true heavy metal has rebellion and truth at its heart, and this is what led us to take the initial step across the snares that illusory life placed upon our path. We feel that we learned a lot in the making of the record, and every time we listen back or play the material live, we are living it again, and now through Blut & Eisen, we are pleased to be able to share this terrible love with others."