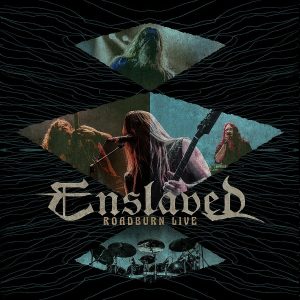 Norveške legende prog black metala Enslaved napovedujejo svoj sploh prvi koncertni album z naslovom Roadburn Live. Izšel bo pri založbah Roadburn Records in By Norse Music.
Kot že namiguje sam naslov albuma, je  koncertni posnetek  bil zabeležen na headlinerskem nastopu skupine v sklopu Roadburn festivala leta 2015. Naslovnico za Roadburn Live je ustvaril priznani umetnik, s katerim Enslaved sodelujejo že vrsto let, Costin Chioreanu.
Za miks zvoka je poskrbel Iver Sandøy v studiu Solslottet, za masterizacijo pa Jens Bogren (Kreator, Opeth, Sepultura) v studiu Fascination. To je zadnji uradno izdani album skupine v postavi s klaviaturistom Herbrandom Larsenom.
Material na Roadburn Live pooseblja dela ustvarjena v kasnejši, progresivni eri delovanja skupine, se pravi tisti, ki je bila ustvarjena na albumih In Times, Riitiir, Isa, Below The Lights in Monumension.
Kot posebni gostje se na albumu pojavljajo Einar Selvik (Warduna), Aðalbjörn Tryggvason (Solstafir), Per Wiberg (Opeth, Candlemass) ter Menno Gootjes (Focus),  in sicer ob izvedbi Led Zeppelin priredbe Immigrant Song.
Seznam skladb na albumu Roadburn Live je naslednji:
01. Building With Fire
02. Death In The Eyes Of Dawn 
03. In Times
04. Daylight
05. Convoys To Nothingness
06. As Fire Swept Clean The Earth
07. Isa
08. Immigrant Song
Postava Enslaved na albumu Roadburn Live:
Ivar Bjørnson – kitara, klaviature
Grutle Kjellson – vokal, bas kitara
Arve Isdal – kitara
Cato Bekkevold – bobni
Herbrand Larsen – klaviature