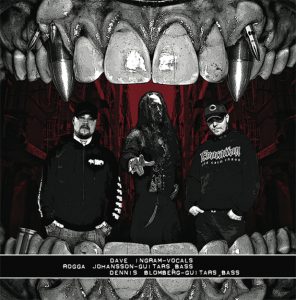 Dansko-svedska zasedba DOWN AMONG THE DEAD MEN
(D-Beat Crust Punk/Death Metal) bo dne 6.11 preko Cyclone Empire  izdala album "Exterminate! Annihilate! Destroy!" Spodaj traklisting in kratek bio
Tracklisting:
01. Pyramids Of Mars
02. Warriors Of The Deep
03. The Oncoming Storm
04. The Ambassadors Of Death
05. Forged In Fire (ANVIL-Cover feat. guest vocals by Kam Lee)
06. Arc Of Infinity
07. Death Seed
08. War Machines
09. Unearthly Child
10. Tooth And Claw
11. Armageddon Factor
12. Protest And Survive (DISCHARGE-Cover feat. guest vocals by Bob Thunder & Donovan Spenceley)
13. Deadly Assassin
Biography

DOWN AMONG THE DEAD MEN, the Crust-Punk project from the minds of Rogga Johansson and Dave Ingram prepares to release their second full length album, "EXTERMINATE! ANNIHILATE! DESTROY!" in November, via Cyclone Empire. This slab of Death Metal-flavoured Crust sees a triumphant return to the throes of extreme music, infused with the "heads down, no nonsense" approach that will satisfy the aural bloodlust of any raucous Metal head, whether new or old school.
Dave is, of course, well known from his time as vocalist for two of England's mightiest Metal legends, BOLT THROWER and BENEDICTION, and also with his long serving online radio show, METAL BREAKFAST RADIO, now well into it's eighth year.  Rogga is equally legendary with multiple bands under his bullet belt, including PAGANIZER, REVOLTING, RIBSPREADER and THE GROTESQUERY to name but a few. Joining them is Rogga's fellow PAGANIZER and RIBSPREADER member, Dennis Blomberg. Session drums on the album are performed by Erik R Bevenrud. Prepare yourselves to be Exterminated, Annihilated and thoroughly Destroyed!
Line-Up:
Dave Ingram – Vocals
Dennis Blomberg – Guitars
Rogga Johansson – Guitars/Bass
Erik R Bevenrud – Session-Drums (only on the Album)