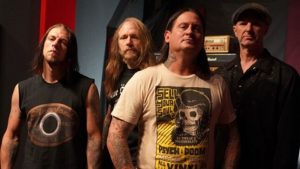 Ameriški doomerji Thunder Horse na ogled ponujajo videospot za drugi single in naslovno skladbo novega studijskega albuma Chosen One, ki je izšel 12. marca pri založbi Ripple Music.
Traklista albumaje naslednja:
Let Them Bleed
Among The Dead
Rise Of The Heathens
Chosen One
Broken Dreams
Song For The Ferryman
Texas
Halfway To Hell
Remembrance
Dear Mr. Fantasy (bonus)
Texas (extended version)
Thunder Horse iz San Antonia v Texasu sestavljajo  kitarist/vokalist Stephen Bishop, kitarist T.C. Connally, basist Dave Crow ter bobnar Jason "Shakes" West.