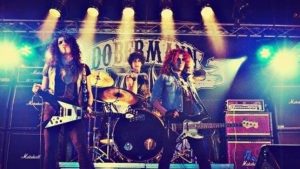 Italijanski rockerji Dobermann so objavili besedilni videospot za skladbo Radioactive, v kateri gostuje tudi kitarist Ronald Jay  Blumenthal –Bumblefoot (ex-Guns N' Roses, Art Of Anarchy).
Gre za novi single z njihovega aktualnega albuma Pure Breed, katerega je produciral Fabio Trentini (Guano Apes, H-Blockx).
Tracklista albuma  je naslednja: Spnc (Intro), War Thunder, Taking In The Outtakes, Radioactive, Pure Breed, I Fucking Hate Drummers, I Need A Holiday, Stuck In Traffic, Hometown in Magic Mountain.
Skupino je leta 2011 ustanovil basist in pevec Paul Del Bello, ki je pred tem sodeloval že z nekaterimi znanimi imeni, kot so Adam Bomb (ex-TKO), Steven Adler (ex-Guns N' Roses, ex-Adler's Appetite) in Michael Monroe (ex-Hanoi Rocks).