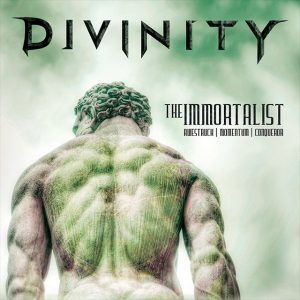 Kanadska ekstremna metal zasedba zasedba Divinity bo 26. maja izdala album The Immortalist, ki je sestavljen iz treh EP-jev, ki so bili izdani v zadnjih petih letih.
 Album vsebuje 12 skladb, na njem pa bodo združeni vsi trije EP-ji – Awestruck, Momentum in Conquerer. Vse skladbe na albumu so bile obdelane s pomočjo Chrisa Donaldsona (Cryptopsy) v studiu The Grid Productions. Na skladbi D.M.T gostuje tudi vokalist zasedbe Soilwork, Bjorn Strid.
Na albumu se nahajajo naslednje skladbe:
1. Manhunt (4:25), 2. Atlas (4:42), 3. Hallowed Earth (6:04), 4. DMT (7:36), 5. PsyWar (6:36), 6. Distorted Mesh (3:48), 7. The Dead Speak From Behind (7:05), 8. Lucid Creator (4:52), 9. The Reckoning (4:24), 10. All Seeing Eyes (5:40) in 11. Momentum (5:21). Skupina je tudi posnela video za skladbo Atlas, ki se nahaja na zadnjem EP-ju z naslovom Conquerer.