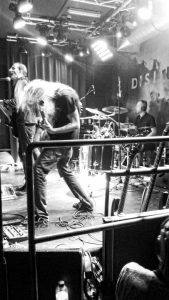 "Vrnitev lokalnih herojev" Po desetletnem premoru (čeprav je skupina vmes tudi koncertirala), od kar je izšel zadnji album zasedbe, so Disillusion  posneli nov material. Zaenkrat skupina promovira le  singlco z naslovom
Alea
, kateri bi  naj drugo leto  sledil še album. Bend in založba sta si  za promocijo izbrali le peščico klubov po G/A/S področju in eden teh je tudi Privat klub v Kreuzbergu, katerega smo se udeležili tudi mi.  Skupina, ki je iz tria zrastla v kvartet (in eno gostjo – na trobenti pri  novem komadu), je pričela svoj set pod zvoki alarma, ki niso bili načrtovani ali  zaigrani iz playbacka, ampak so bili klubski , izključili pa so jih gasilci. Disilluion so ne ozirajoč se na  motnje orng zažagal in nadaljevali svoj zmagoviti pohod nad Berlinom. Predvsem pri skladbah iz "prvenca" Back To Times Of Splendor
 (… and the Mirror Cracked,  Back To Times Of Splendor, A Day By The Lake)
jim je občinstvo dobesedno jedlo  iz rok. Njihovo rokodelstvo najbolj vžge pri  hitrih pasažah, ko dejansko,zažigajo vendar v  trenutkih,  ko poskušajo v melanholijo pomešati  new wave/industrialno atmosfero s progovso-toolskimi zvoki, jim to  ne uspeva ravno najbolje
(The Black Sea, Gloria, Dont Go Any Further).
Pa vendar,  publika je bila hvaležna vsake note, na njihovih obrazih pa se je jasno  videlo veselje nad vrnitvijo izgubljenih Disillusion.
Č
eprav prvenec vsebuje dokaj močnejše skladbe, večino občinstva to ni motilo in  je kljub temu sprejelo   eksperimentiranje skupine pri albumu Gloria. In to v časih (2006), ko  v Nemčiji skoraj nihče ni upal mešati zvokov ekstremenga metala s progom, zvoki Toolov in podobno…
Spodaj si lahko pogledate posnetek iz premiernega koncerta v domačem Leipzigu. Slobedniji najbliže lahko ta bend  ujamete 25. novembra na Dunaju.
Zasedbo iz Leipziga (Nemčija) sestavljajo: Andy Schmidt na vokalih in kitari, Jens Maluschka na bobnih, za kitaro Sebastian Hupfer in za bobni Ben Haug.
Diskografija
2006 Disillusion Gloria
2003  Disillusion Back To Times Of Splendor
.… and the Mirror Cracked  08:26
Fall [4:53]
Alone I Stand In Fires [6:52]
Back To Times Of Splendor [14:40]
A Day By The Lake [4:53]
The Sleep Of Restless Hours [17:01]
2002 Disillusion The Porter
2001 Disillusion Three Neuron Kings