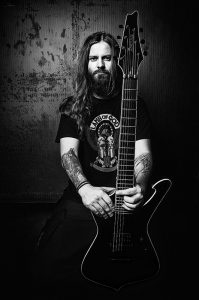 Po treh letih se poljski death metalci Decapitated vračajo z naslednjikom albuma Blood Mantra. Album z naslovom Anticult bo izšel 7. julija preko založbe Nuclear Blast in bo postregel z osmimi novimi skladbami. Na tej strani smo nedavno objavili novo skladbo Never.
Decapitated nadaljujejo glasbeni stil, katerega je skupina ubrala po tragični prometni nesreči, v kateri je  umrl bobnar Vitek, pevec Covan pa utrpel resne poškodbe glave.
Zadnja dva albuma sta naletela na strahove med oboževalci, saj se je prvotni zvok tehničnega death metala odmikal od skupine. Wacław "Vogg" Kiełtyka (na sliki) ne zanika, da je prišlo do spremembe v Decapitated stilu in pravi:
To ni več pravi death metal. Trenutno je glasba Decapitated mešanica glasbenih idej, ki jo je težko opisati. Povezali smo death, thrash, rock'n'roll, celo black metal skupaj z atmosferičnimi deli. Vse to dela Decapitated unikatne. Rad poslušam različne zvrsti metala in glasbe na splošno. Težko bi ustvaril še en pravi death metal album. In po mojem bi bil rahlo dolgočasen.
Seznam skladb albuma je naslednji: 01. Impulse, 02. Deathvaluation, 03. Kill The Cult, 04. One-Eyed Nation, 05. Anger Line, 06. Earth Scar, 07. Never in 08. Amen.