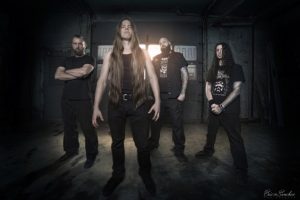 Kanadska brutal death metal zasedba Cryptopsy predstavlja videospot  za skladbo Sire of Sin, ki se bo nahajala na prihajajočem EP-ju z naslovom The Book of Suffering – Tome II.
Ta je bil produciran in zvočno obdelan s strani Chrisa Donaldsona, kitarista zasedbe.
Na izdelku bodo štiri nove skladbe in sicer:
1. The Wretched Living
2. Sire of Sin
3. Fear His Displeasure
4. The Laws of The Flesh
Naslovnico za EP je ustvaril Remy Cooper (Headsplit Design). Cryptopsy bodo EP predstavljali tudi po Evropi, kamor se bodo podali skupaj z Aborted, Benighted in Cytotoxin. Karavana se bo ustavila v Sloveniji, in sicer 13. novembra v Ljubljani (Orto Bar).