CATTLE DECAPITATION so objavili še enega izmed komadov prihajajočega albuma The Anthropocene Extinction. Spodaj  lahko preverite kako zveni komad "Mammals In Babylon"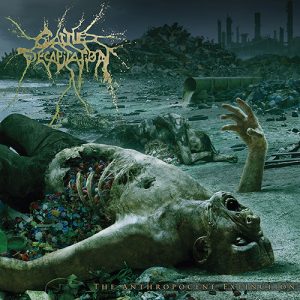 'The Anthropocene Extinction' is the forthcoming new full-length from San Diego deathgrind icons, CATTLE DECAPITATION. Set for world wide release August 7th, 2015 via Metal Blade Records, the followup to 2012's critically lauded "Monolith Of Inhumanity" was again captured by producer Dave Otero (Allegaeon, Cephalic Carnage) at Flatline Audio in Denver, Colorado, and includes guest appearances from the legendary Philip H. Anselmo, Tristan Shone/Author & Punisher and Bethlehem's Mr. Jurgen Bartsch.
Thematically, with 'The Anthropocene Extinction' we are transported forward to man's last gasps, reminiscent of what is currently going on with the Laysan Albatrosses on the island of Midway Atoll. The birds and aquatic wildlife of the Pacific Ocean are mistaking the vast amounts of man-made plastic items for food, ingesting it and are dying in large numbers, rotting where they fall and exposing to the world what is happening to the ecosystems of the earth's oceans – the most unknown and unexplored part of our planet. The breakdown of the earth's ecosystems has begun long ago due to human interaction as well as the domino effect that will surely seal the fate for our species: 'The Anthropocene Extinction'.
As a precursor to its release, today Revolver Magazine is offering up seventh track and second single, 'Mammals In Babylon' for communal appreciation. Offers guitarist Josh Elmore: "'Mammals in Babylon' was one of the earliest songs written for the new album. At that time we had completed several other tunes that fell more on the epic side of our writing style. As a foil to that strategy, 'Mammals' came about based upon a desire to concoct a no-BS, straight-forward ripper. Blending a brutal death metal assault with groovier passages that leads into a bleak, yet triumphant chorus, 'Mammals' has a pounding quality that gives way to a buzz-sawing completion. All the while [vocalist] Travis' [Ryan] lyrics frame humanity's infancy in paradise and our evolution to 'maturity' which now finds us dwelling in a wasteland of our own creation. We invite you to take a listen to the next track from 'The Anthropocene Extinction'"
Witness 'Mammals In Babylon,' courtesy of Revolver, at THIS LOCATION.
The first taste of "The Anthropocene Extinction" comes in the form of opening track, "Manufactured Extinct," now available for public consumption at metalblade.com/cattledecapitation.
"The Anthropocene Extinction" Track Listing:
1. Manufactured Extinct
2. The Prophets of Loss
3. Plagueborne
4. Clandestine Ways (Krokodil Rot)
5. Circo Inhumanitas
6. The Burden Of Seven Billion
7. Mammals In Babylon
8. Mutual Assured Destruction
9. Not Suitable For Life
10. Apex Blasphemy
11. Ave Exitium
12. Pacific Grim
13. Cannibalistic Invasivorism (Bonustrack)
14. No Light and No Life (Bonustrack)
"The Anthropocene Extinction" will be released August 7th, 2015 via Metal Blade Records.
In Europe "The Anthropocene Extinction" will be released as an exclusive CD/DVD-Digipak featuring two Euro-only bonus tracks and a bonus-DVD, also only available in Europe! The DVD features six video clips, five live clips from the bands appearance at the Party.San Open Air in 2012 and the making-of "The Anthropocene Extinction".
CATTLE DECAPITATION:
Travis Ryan – Vocals
Josh Elmore – Guitar
Derek Engemann – Bass
Dave McGraw – Drums