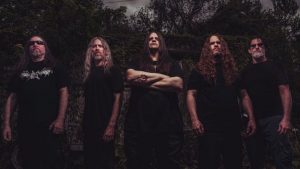 Death metalci Cannibal Corpse so tokrat objavili videospot za skladbo Murderous Rampage
Cannibal Corpse  bodo 16. aprila pri založbi Metal Blade Records objavili že 15. studijski album z naslovom Violence Unimagined. Tokrat se klasični zasedbi, ki jo sestavljajo Alex Webster (bass), Paul Mazurkiewicz (bobni), George Corpsegrinder Fisher (vokal) in Robb Barret (kitara) pridružuje kitarist Erik Rutan. Slednji je v metal svetu poznan predvsem kot ustanovni član (kitara, vokal) zasedbe Hate Eternal ter producent (Cannibal Corpse, Goatwhore in Belphegor in drugi).
Spisek skladb na prihajajočem albumu pa bo sledeč:
Murderous Rampage
Necrogenic Resurrection
Inhumane Harvest
Condemnation Contagion
Surround, Kill, Devour
Ritual Annihilation
Follow The Blood
Bound And Burned
Slowly Sawn
Overtorture
Cerements Of The Flayed
Album so posneli v studiu Mana Recording skupaj s producentom Erikom Rutanom (Soilent Green, Belphegor, Hate Eternal), s katerim so tudi že sodelovali na albumih Kill (2006), Evisceration Plague (2009) in Torture (2012).