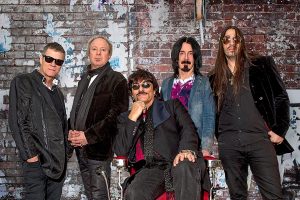 Zasedba Cactus je objavila podrobnosti prihajajočega abuma Tightrope, ki bo izšel 2. aprila pri založbi Cleopatra Records.
Skupino trenutno sestavljajo bobnar Carmine Appice, pevec Jimmy Kunes, Randy Pratt – ustna harmonika,  kitarist/pevec Paul Warren ter basist  James Caputo.
Plata bo vsebovala naslednje skladbe:
01. Tightrope
02. Papa Was A Rolling Stone
03. All Shook Up
04. Poison In Paradise
05. Third Time Gone
06. Shake That Thing
07. Primitive Touch
08. Preaching Woman Man Blues
09. Elevation
10. Suite 1 & 2: Everlong, All The Madmen
11. Headed For A Fall
12. Wear It Out
John Voorhis (Tim) Bogert III
* 27. Avgust 1944; † 13. Januar 2021
Carmine Appice je januraja  na spletu objavil, da je v 76 letu starosti umrl njegov prijatelj, basist  Tim Bogert (Vanilla Fudge, Cactus,Beck, Bogert & Appice, Rod Stewart, Bo Diddley in Pata) .