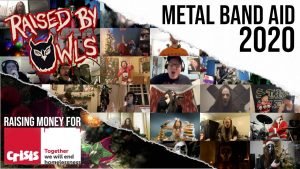 Angleška death funcore zasedba Raised By Owls je sprožila dobrodelno akcijo Metal Band Aid 2020, v okviru katere s priredbo britanske božične pesmi Do They Know It's Christmas? zbira denar proti revščini in brezdomstvu.
Ves denar, ki bo zbran s prodajo tega digitalnega singla, bo nakazan dobrodelni organizaciji Crisis, pri izdelavi priredbe pa so sodelovali člani preko 40 skupin:
Street Soldier, Benediction, Memoriam, Bolt Thrower, Serrabulho, Beyond Your Design, Ragingspeedhorn Speedhorn, PaRtY-CaNnOn, Evil Scarecrow, Ten Foot Wizard, Massacre, Slugdge, Foetal Juice, Abduction, Grimorte, Nekrogoblikon, Vulvodynia, Basement Torture Killings, Countless Skies, Footprints In The Custard, Divine Chaos, I Saw The World Burn, This Is Turin, Ashen Crown, Embodiment, Mortishead, Impavidus, Brianblessed, Bloodthread, Underdark, Hellfekted, Pemphigoid, Mad Spanner, Sodomized Cadaver, Democratus, Helgrind, Incursion, Anakim, The Crawling, Total Consumption, Devastator, Oncology, Bleating Apocalypse, Boycott The Baptist, Reaper, Chestburster.