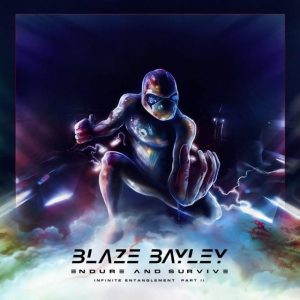 Britanski vokalist Blaze Bayley, najbolj znan po tem, da je med letoma 1994 in 1998 prepeval pri zeležnih devicah,  predstavlja videospot, in sicer za naslovno skladbo novega studijskega albuma z naslovom Endure And Survive. Ta bo izšel 3. marca.
Album Endure And Survive (Infinite Entanglement Part II) bo izšel preko njegove založbe Blaze Bayley Recording. Nova plata je nadaljevanje konceptualne zgodbe, ki ji je lansko leto začrtal prvi del Infinite Entanglement.
Tudi na tej turneji bodo Bayleya spremljali odlični glasbeniki iz britanske metal zasedbe Absolva in sicer Chris Appleton (kitara, spremljevalni vokal), bobnar Martin McNee in Karl Schramm (bas kitara, spremljevalni vokal). Album sta producirala Blaze Bayley in Chris Appleton.
Skladbe na albumu Endure And Survive so naslednje: 01. Endure And Survive,  02. Escape Velocity, 03. Blood,  04. Eating Lies, 05. Destroyer, 06. Dawn Of The Dead Son, 07. Remember, 08. Fight Back, 09. The World Is Turning The Wrong Way in  10. Together We Can Move The Sun.
Na novem Blaze Bayley albumu so sodelovali tudi:
Luke Appleton (Iced Earth, Absolva) – spremljevalni vokal
Michelle Scariotta – akustična kitara, spremljevalni vokal, naracije
Jo Robinson – spremljevalni vokal
Mel Adams – spremljevalni vokal
Liz Owen – spremljevalni vokal
Thimas Zwijsen – akustična kitara
Anne Bakker – violina, spremljevalni vokal
Corvin Bahn (Uki Jon Roth) – harmonika
Aine Brewer – naracije
Rob Toogood – spremljevalni vokal