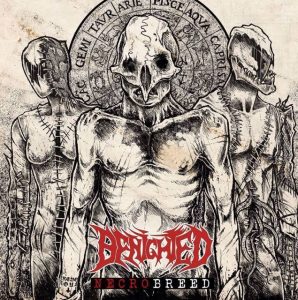 Novi album, ki bo izšel 24. februarja, bo prvi z novim bobnarjem Romainom Goulonom, ki je prej igral pri tehnični death metal zasedbi Necrophagist, kitaristom Emmanuellom Dalom in basistom Pierrom Arnouxom.
Albumu lahko prisluhnete TUKAJ. Benighted se bodo po Evropi mudili spomladi. Na turneji jih bodo spremljali španski Wormed, angleški Unfathomable Ruination ter švicarski Omophagia.
Karavana se bo ustavila tudi v Sloveniji, in sicer 27. aprila v Ljubljani, v Orto Baru.
Seznam skladb je naslednji: 01. Hush Little Baby, 02. Reptilian, 03. Psychosilencer, 04. Forgive Me Father, 05. Leatherface, 06. Der Doppelgaenger, 07. Necrobreed, 08. Monsters Make Monsters, 09. Cum With Disgust, 10. Versipellis, 11. Reeks Of Darkened Zoopsia, 12. Mass Grave, 13. Biotech is Godzilla (Sepultura cover) in 14. Christraping Black Metal (Marduk cover).