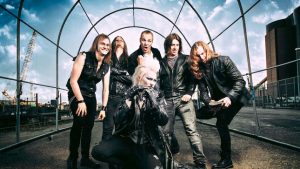 Battle Beast so objavili besedilni video za skladbo The Eclipse z najnovejšega studijskega albuma Bringer Of Pain, izdanega nedavno  pri založbi Nuclear Blast.
Battle Beast so 17. februarja pri založbi Nuclear Blast izdali novo plato, imenovano Bringer Of Pain. Novi album je posnel in produciral njihov klaviaturist Janne Bjorkroth, za miks pa sta  poskrbela Viktor Gullichsen (Brymir, ex-Nerlich, ex-The Coven) ter  Mikko Karmila (Amorphis, Nightwish, Children Of Bodom, Lullacry, Sonata Arctica).
Skupina na albumu predstavlja novega kitarista  Joonea Björkrotha.
Traklista albuma je naslednja: 01. Straight To The Heart,  02. Bringer Of Pain,  03. King For A Day,  04. Beyond The Burning Skies, 05. Familiar Hell,  06. Lost In Wars (feat. Tomi Joutsen), 07. Bastard Son Of Odin,  08. We Will Fight,  09. Dancing With The Beast in  10. Far From Heaven.