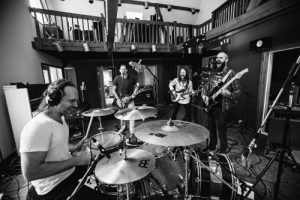 Skupina Baroness predstavlja  videospot za singlco "Chlorine & Wine" iz prihajajočega četrtega studijskega albuma z naslovom "Purple", ki bo izšel 18. decembra pri založbi Abraxan Hymns.
Recording with Dave Fridmann at Tarbox Road Studios in Cassadaga, New York. Foto credit: Jimmy Hubbard
We're at the end of a two week tour in Europe, our longest break from touring since we started the band in 2003. It's been really great to get back onstage; this past week has felt like a sort of homecoming. We've been down in a basement for the past two years, shivering and/or sweating out a new record. It's an understatement to say that we are proud of the result, and we cannot wait for its release, so that we can finally begin to play these songs on tour for our audience.
It has taken three years to rebuild, restrengthen and reforge Baroness into a new form; and while the wait was grueling at times, it's already been worthwhile. We needed to write an album that would push us forward, reinvigorate our creativity, and offer a further challenge for ourselves and our fans alike. We needed to write something exciting. We really set ourselves to task to trim fat, write better songs, and speak with a more direct and unique voice through our music.
We have never been nor will we ever be interested in following trends, adhering to stylistic rules or fitting securely in any format. Our goal is to write, record, and perform music that excites us. If we can get amped up and feel these songs in earnest, then we believe that you can too. Purple is the recorded experience of Baroness piecing ourselves back together in order to become something more than we had ever imagined we could be. In short, we are thrilled. We have never been as uniformly psyched-up by a record of ours as we are today. You will be hearing much more from us soon. 'Til the wheels fall off…
– Baroness