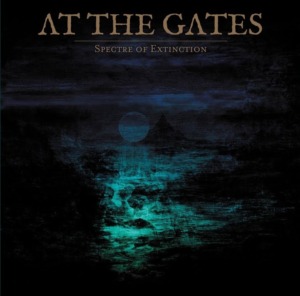 At The Gates predstavljajo videospot za single Spectre Of Extinction.
Prihajajoči album z naslovom The Nightmare Of Being (Century Media Records) bo vseboval naslednje skladbe:
1. Spectre of Extinction
2. The Paradox
3. The Nightmare of Being
4. Garden of Cyrus
5. Touched by the White Hands of Death
6. The Fall into Time
7. Cult of Salvation
8. The Abstract Enthroned
9. Cosmic Pessimism
Ovitek je izdelala Eva Nahon.
Bonus:
1. Red (King Crimson cover, Live at Roadburn)
2. The Scar (Live at Roadburn)
3. Koyaanisqatsi (Philip Glass cover, Live at Roadburn)
4. The Burning Darkness (Live at Roadburn)
5. Daggers of Black Haze (Live in Stockholm)
6. Death and the Labyrinth (Live in San Francisco)
7. A Stare Bound in Stone (Live in San Francisco)
8. Heroes and Tombs (Live in San Francisco)
9. The Night Eternal (Live in San Francisco)