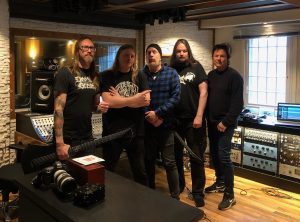 At The Gates predstavljajo nekaj podrobnosti prihajajočega albuma z naslovom The Nightmare Of Being (via CM), ki bo vseboval naslednje skladbe:
1. Spectre of Extinction
2. The Paradox
3. The Nightmare of Being
4. Garden of Cyrus
5. Touched by the White Hands of Death
6. The Fall into Time
7. Cult of Salvation
8. The Abstract Enthroned
9. Cosmic Pessimism
Ovitek je izdelala Eva Nahon.