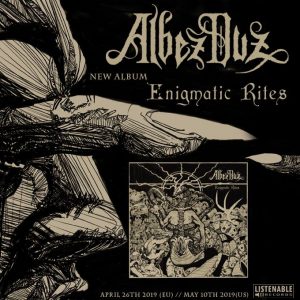 Berlinska doom zasedba Albez Duz bo 26. aprila pri založbi Listenable Records objavila album z naslovom Enigmatic Rites, ki bo vseboval naslednje skladbe:
01. Rites of hidden souls
02. Wandering soul
03. Participation mystique totalitaire
04. When the bird fledges
05. Surrender
06. Emperor is blind
Bonus (cd)
07. Only lies
Album Enigmatic Rites sta posnela Eugen Herbst in Julian Müsseler v Berlinskem studiu Devil's II. Mix, mastering pa so zaupali (tako kot tudi Dekadent)  V. Santuri (Triptykon, Dark Fortress) in njegovemu Woodshed studiu.