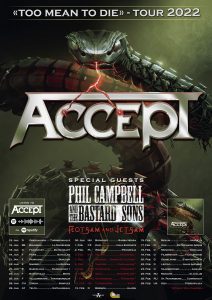 Accept napovedujejo evropsko turnejo pod sloganom  Too Mean To Die, na kateri bodo promovirali aktualni album, družbo pa jim bodo delali zasedbi;  Phil Campbell and the Bastard Sons ter Flotsam and Jetsam.
Vse datume turneje najdete na spletni strani skupine.
Zasedba Flotsam And Jetsam bo 4. junija  objavila album z naslovom Blood In The Water, ki bo izšel preko založbe AFM. Ta bo vseboval naslednje skladbe:
01. Blood In The Water
02. Burn The Sky
03. Brace For Impact
04. A Place To Die
05. The Walls
06. Cry For The Dead
07. The Wicked Hour
08. Too Many Lives
09. Grey Dragon
10. Reaggression
11. Undone
12. Seven Seconds 'Til The End Of The World
Nov basist skupine je Bill Bodily (Contrarian, ex-Inhumatus, ex-Toxik).