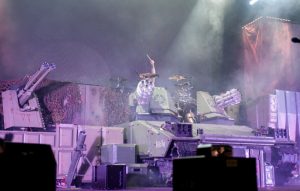 Twilight Promotion napovedujejo za danes, ponedeljek 13. 3.  koncert zasedbe ACCEPT v Zagrebškem Domu Sportova.
13.03. SABATON + ACCEPT + TWILIGHT FORCE – Dom Sportova, Zagreb
23.03. CHILDREN OF BODOM + FOREVEL STILL + ONI – Tvornica Kulture, Zagreb
09.04. MAYHEM + DRAGGED INTO SUNLIGHT + INFERNO – Vintage Industrial Bar, Zagreb
Kot posebni gostje turneje The Last Tour 2017 bodo s Sabaton nastopale nemške legende heavy metala, znameniti Accept! Začetki skupine segajo v sam konec šestdesetih let prejšnjega stoletja, vendar pa preteče še nekaj vode dokler ne izide leta 1979 istoimenski studijski prvenec skupine.Vsega leto dni zatem izdajo Accept album I'm A Rebel. Naslovna skladba tega albuma je bila sprva ustvarjena in posneta za AC/DC, vendar je ti nikdar niso uradno objavili. Accept pridobivajo polagoma na popularnosti, leta 1983 pa jm prebojni uspeh prinese album Balls To The Wall. Istoimenski single prinese skupini gromozanski uspeh, na podlagi tega pa jih spozna širša metalska pubika. Leta 1987 zapusti skupino prvič izvirni pevec Udo Dirkschneider, ki se je v nadaljevanju delovanja skupine vanjo večkrat vrnil, a jo tudi zapustil. Skozi devetdeseta skupini ne uspeva zadrževati kontinuiranega procesa novih albumskih izdaj, zato se Udo leta 2005 odloči, da Accept dokončno zapusti. Leta 2009 se skupini priključi tako novi pevec, Američan Mark Tornillo (T.T. Quick), s katerim Accept (in producent Andy Sneap) posnamejo in izdajo v obdobju med letoma 2010 in 2014, tri dobro sprejete in nadvse uspešne nove studijske albume; Blood of the Nations, Stalingrad in Blind Rage. Na tej povezavi lahko prisluhnete aktualnemu koncertnemu albumu Restless And Live.
V zagrebškem Domu Sportova bodo Accept izvajali repertoar, ki bo sestavljen iz kariernega preseka njihovih največjih hitov.