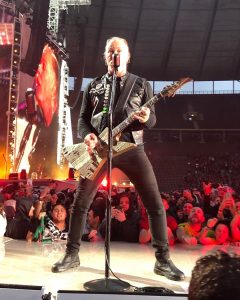 The ABCs Of Metallica je biografija, ki je skupina spisala skupaj s so-avtorjem Howiejem Abramsom (The Merciless Book of Metal Lists, Hip-Hop Alphabet). Knjigo krasijo ilustracije Michaela "Kaves" McLeera.
Metallica, ki te dni koncertira po Evropi, se je 6. julija ustavila v Berlinu (Olympiastadion), kjer so med drugimi odigrali tudi skladbi Welcome Home (Sanitarium) in Sad But True.
Evropska turneje zasedbe Metallica se bo nadaljevala vse do 25. avgusta, ko bo nastopila v nemškem Mannheimu. Slovenski ljubitelji enega največjih bendov na svetu pa bodo na svoj račun prišli 16. avgusta, ko se bo koncert odvijal na stadionu Ernst Happel na Dunaju.
16.08.19 AT-Wien – Ernst-Happel-Stadion
23.08.19 München – Olympiastadion
25.08.19 Mannheim – Palastzelt Maimarktgelände