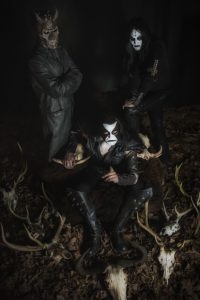 ABBATH
, band- solo projekt ex-
IMMORTAL
frontmena
Olve Eikemo
( 
Abbath
) je objavil spot za komad "Warriors". Verjetno vam je znano, da se ta komad nahaja na plati zasedbe 
I
–
"Between Two Worlds"
, katero je leta 2006 izdala založba 
Nuclear Blast
. 
ABBATH
Bodo decembra letos izdali singlco z naslovom ,
"Count The Dead" 
( via 
Season Of Mist)
. Na B strani se bo nahajala priredba komada  "
Riding On The Wind"
zasedbe
JUDAS PRIEST.
Abbath  "We have performed 'Fenrir Hunts' live since our debut concert at Tuska festival in Finland. This led to the decision to record a few live songs properly. With the aid of a camera team, we have recorded three tracks in a live setting at the beginning of September. Along with 'Fenrir Hunts', which you can see today, there will be two cover versions coming up soon. Now, here is 'Fenrir Hunts', the first glimpse from our upcoming debut album!" The "Fenrir Hunts" video was directed by Fraser West. The song was recorded and mixed by Jamie Ward.
Bass duties for ABBATH are being handled by a man familiar to metal fans across the world — Tom Cato Visnes, more widely known as King Ov Hell and main composer for several GORGOROTH albums as well as his own bands OV HELL, with singer Shagrath from DIMMU BORGIR, and GOD SEED, with exceptional black metal vocalist Gaahl. His fellow GOD SEED member and BORKNAGAR percussionist, Baard Kolstad, has also joined ABBATH on drums.
Abbath "I believe in my music and I believe in my expression, but time flies and we grow apart. Maybe in the future we can go back again, I don't know, but right now I just want to do my thing and just be ABBATH and have people around me who support that."