Non Serviam Records za dne 30. oktober napovedujejo izdajo  novega albuma nemške zasedbe Invoker – "Aeon"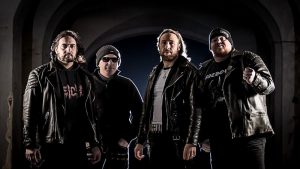 Biography:   The band was founded in 2010 by Tino Büttner (vocals / guitar) and Tino Schumann (drums)
Line-up 2015;  Tino Büttner (vocals / guitar), Tino Schumann (drums), Christian Ulbrich (guitar), Florian Jäntsch (bass)
 In 2012 started the recording to their debut album "A New Age", which was published in 2013, with support from the label Godeater Records.   The lyrical concept of the album refers to the subject of death with its infinite faces.  This album was sold by BretHard Records and Godeater Records.
 The band promoted the album by doing a lot of live performances, including the Under The Black Sun Festival.
Invoker performed with bands like Inquisition Melechesh, Koldbrann, VON, Alchemyst and Eisregen.
 In January 2014 Invoker plays their first headlining tour in Switzerland.  Concerts in the Netherlands, Belgium and Germany followed.   In 2015 Invoker started the recording of the second album "Aeon", where Florian Jäntsch was recruited as bass player.  Musically the band is experiencing a change.
 The layout for the album "Aeon" was designed by Misanthropic-Art Illustrations.  (Deserted Fear, Craft and Secrets Of The Moon)  The layout refers to the ideas and the musical concept of the band.
 "INVOKER – AEON" new album will be released on Non Serviam Records.