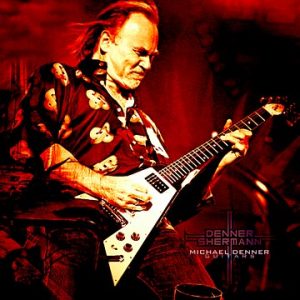 Spodaj  lahko slišite "Satan's Tomb", naslovni komad debitantskega EP-ja projekta Denner / Shermann (ex- Mercyful Fate) , ki bo 2. oktobra izšel pri založbi Metal Blade Records.
A video trailer for the new DENNER / SHERMANN EP "SATAN'S TOMB" has been released showcasing clips of songs from their upcoming release Oct 2nd on METAL BLADE RECORDS.
Guitar Legends MICHAEL DENNER and HANK SHERMANN of MERCYFUL FATE have given an offering of supremely, classic heavy metal infused with an overload of their signature, dark magic shredding. According to the legendary guitar duo, getting SNOWY SHAW (King Diamond/Therion/Sabaton) on Drums, MARC GRABOWSKI (Demonica) on Bass Guitar, and SEAN PECK (Cage/Death Dealer) on vocals, onboard to form the band was a critical component to bringing these 4 tracks to life.
Michael Denner added "Creating these songs with this line up really ignited my metal fire hotter than ever! I'm sure the fans are going to love this thing" "This mix ended up really having an old school feel to it that sounds awesome when blasting at an unhealthy volume" says Hank
"Being invited to collaborate with these two guys who had such a profound, major impact on my indoctrination to metal, has been absolutely killer! And now we are continuing to write more material for a full length release too. My mind is officially blown!" says singer Sean Peck
The EP was recorded in the USA, Sweden & Denmark and was mixed by Arnold Lindberg at Sound Industry Studios in Gothenburg. The mastering was done by Maor Appelbaum in Los Angeles, California.
The SATAN'S TOMB cover artwork was painted by Thomas Holm whose work on MERCYFUL FATE's MELISSA and DON'T BREAK THE OATH is well known throughout the metal world.
The track listing for SATAN'S TOMB is as follows;
1. SATAN'S TOMB

2. WAR WITCH
3. NEW GODS
4. SEVEN SKULLS