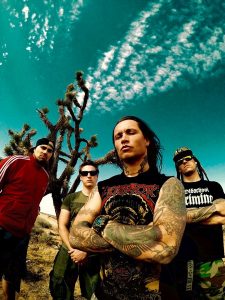 Madzarska zasedba Ektomorf, bo meseca oktobra preko AMF izdala Album "Aggressor" . Spodaj nekaj informacij o tej  maxovikopiji..
LINE-UP
 Zoltán Farkas (vocals, guitars)  Szabolcs Murvai (bass)  Tomi Schrottner (guitar)  Robert Jaksa  (drum
TRACKLIST
01. Intro 02. I 03. Aggressor 04. Holocaust 05. Move On 06. Evil By Nature  (feat. George "Corpsegrinder" Fisher) 07. You Can't Get More 08. Emotionless World 09. Eastside 10. Scars 11. Damned Nation 12. You Lost 13. You're Not For Me 14. Memento
Hungarian neo thrash masters EKTOMORF are one of the most consistent forces in the heavy music scene. A band that never disappointed their fans and stood true to what they are: a powerful, unstoppable groove machine! Following their "Retribution" album (which was released in early 2014), another successful headliner tour and numerous festival gigs, the band around charismatic frontman Zoli Farkas now presents its new album. Continuing their no-nonsense philosophy, the title 'Aggressor' is not misleading at all – in fact this new piece of work definitely is the band's heaviest and most energetic to date. Also "Aggressor" is a return to some old EKTOMORF marks from earlier days, like the Eastern European gypsy harmonies and grooves, which give a special dark and unique atmosphere to the album.
Once again EKTOMORF of course worked with highly-acclaimed Danish producer Tue Madsen, who is a stable part of the team and perfectly understands the musical visions of EKTOMORF.
The band is proud to present legendary Cannibal Corpse vocalist George "Corpsegrinder" Fisher with a guest appearance on 'Aggressor'.  Zoli comments: "We are friends with the Cannibal Corpse guys since a long time. Last year in November I spoke to George (Fisher) about doing a song together. The recent Budapest show of Cannibal Corpse then was the perfect opportunity to meet and record his parts. So I took small home recording studio gear with me and recorded vocals with George in the dressing room before their show. It was fun and turned out killer! The song's title is "Evil By Nature" and you can be sure that it will smash your face!"   EKTOMORF was founded in 1993 in Mezökovacsháza, Hungary, a small city near the Romanian border, by Zoltán "Zoli" Farkas. In the actual line-up Zoli – songwriter and mastermind of the band – is the only remaining founding member. The band is completed by Tomi Schrottner (guitar), Szabolcs Murvai (bass) and Robert Jaksa (drums).
Due to his gipsy background Zoli saw himself confronted with racism and prejudices. But this didn't hold the band back from establishing an international career. The breakthrough came, when EKTOMORF started their collaboration with Danish producer Tue Madsen in 2003. Madsen helped the band to find their very own, super fat, modern and powerful sound that EKTOMORF evolved since "Destroy" (2004) steadily.
EKTOMORF's lyrics reflect this situation and deal with discrimination, society, pain and anger but show a strong will to survive and overcome all problems. Their music combines the burning fire of the primal gipsy music with modern elements: groovy, down tuned guitar riffs and aggressive drums, supplemented by powerful and raw screaming vocals became their trademarks. Regardless of all circumstances EKTOMORF established itself as one of the most successful Hungarian bands, well known for their intensive, energetic, mind blowing live shows. Playing extensive headliner tours and shows at the biggest European festivals (e.g. Wacken, With Full Force, Sziget, Rock am Ring) the band build up a strong fan base throughout Europe.