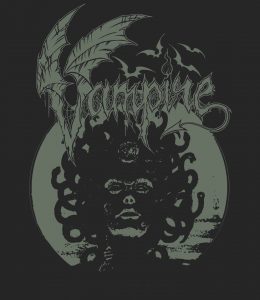 Kot verjetno ze veste bo  zasedba VAMPIRE 25.09  izdala singlco  "Cimmerian Shade". Spodaj nov komad in zadnji spot "The Fen".
The darkness that kills with a bite … 
VAMPIRE + TRIBULATION + SPECIAL GUEST- European tour 2016
Presented by Metal Hammer, Deaf Forever & Rock Tribune
14.01.2016 Berlin (Germany) – Magnet
15.01.2016 Hamburg (Germany) – Knust
16.01.2016 Kassel (Germany) – K19
17.01.2016 Nijmegen (The Netherlands) – Doornroosje
19.01.2016 Nürnberg (Germany) – Club Z-bau
20.01.2016 Innsbruck (Austria) – Weekender Club
21.01.2016 Vienna (Austria) – Viper Room
22.01.2016 Budapest (Hungary) – Durer Kert
23.01.2016 München (Germany) –          Backstage
24.01.2016 Aarau (Switzerland) – Kiff
25.01.2016 Colmar (France) – Le Grillen
26.01.2016 Paris (France) – Glazart
27.01.2016 Hasselt (Belgium) – Muziekodroom
28.01.2016 Leiden (The Netherlands) – Gebr De Nobel
29.01.2016 Essen (Germany) – Turock
Check out the brilliant opening track "Pyre Of The Harvest Queen" here:
With "Cimmerian Shade" VAMPIRE continue walking the path they have chosen with their self-titled demo (2012) and last year's debut album, offering ghoulish, horror-ridden Nordic death metal spiced up with some sinister South American thrash metal parts and an omnipresent eldritch atmosphere. But "Cimmerian Shade" also shows a departure to unconquered shores by adding an epic touch to the music, which so far hasn't been an essential part of VAMPIRE's Sound.
"Cimmerian Shade" track-list:
Side A
Pyre Of The Harvest Queen *
Sleeper In The Deep (instrumental)
Side B
Night Hunter
Hexahedron
* known from the "Whispers Through The Black Veil" LP-only compilation (Wyrd War, 2014)
VAMPIRE line-up:
Hand of Doom: Vocals
Black String: Guitars
Command: Electric Bass
Sepulchral Condor: Guitars
Abysmal Condor: Battery